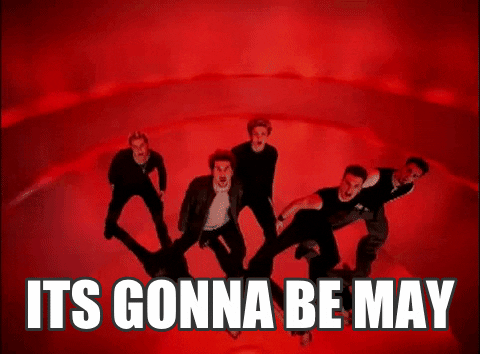 We waited one year to use that GIF.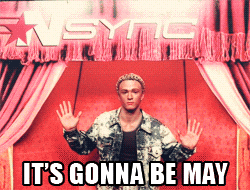 And this one.
In case you didn't get the song reference, that meme-worthy line is from 'NSYNC's "It's Gonna Be Me".
Yes, May is here! It is going to be an exciting month because it's just one month before the half-year mark, so if you haven't fulfilled the New Year's resolution that you so badly want to nail, now's a good time.
On the events front, it's filled with quite a few exciting events. One we're most excited about? The CLEO's Most Eligible Bachelors 2019 Finals Party, which you can score passes to by signing up here. Now that we're plugged our own event, scroll through the gallery to see what exciting things you can do in Singapore this month.
More from CLEO:
Interview: Joanne Peh Reveals Her Beauty Secrets And Tips
CLEO Bachelors Share First Date Tips
Naomi Neo On Relationships, Growing Up And Being Responsible
Istana Open House, The Istana — May 1
For just a few times a year, the usually heavily guarded and serene office of the President of Singapore will spring to life as it welcomes thousands of visitors through its open doors. If you haven't seen what life is like in The Istana, pay a visit on May 1, Labour Day, for its open house from 8.30am to 6pm. Besides getting a chance to marvel at the colonial architecture and learning about the heritage of this important building, you can also enjoy a bustling line-up of performances and activities and even have a picnic with your loved ones. Moreover, the Istana is celebrating its 150th anniversary and you can purchase commemorative tokens and Flashpay cards there. Entry is free for Singaporeans and PRs and $2 per person for everyone else. More information is available at The Istana website.
Peroni Sunset Cinema, Tanjong Beach — May 2 to 15
Sip on an icy cold cocktail as you tuck into food from Tanjong Beach Club and enjoy a lovely cool sea breeze — all while watching a film. Doesn't that sound like a dream? Live out that fantasy at the Peroni Sunset Cinema, where you get to catch movies such as biographic dramedy Green Book (2018), biographic legal-drama On The Basis Of Sex (2018) and crime drama The Mule (2018) while lounging in deck chairs with wireless headphones. While some dates are already sold out (you can't see Lady Gaga belting out Shallow by the beac, unforch), you can check out their website for other available dates. Tickets cost $31.80 each via their website and the screening will only be cancelled if the weather conditions pose a risk.
Image: Peroni Sunset Cinema's Instagram
Troye Sivan 'The Bloom Tour' Singapore, The Star Theatre — May 3
Don't be fooled by his skinny frame and elvish good looks — South African-born Australian singer-songwriter-actor Troye Sivan packs smooth vocals that are at once soulful and soothing. First spotted doing song covers on YouTube, Troye has since received a Golden Globe nomination for his song Revelation in coming-of-age film Boy Erased (2018). Set to perform his latest album Bloom, concertgoers can expect hits such as My My My!, Dance To This and Animal, but we're hoping that the 23-year-old performs favourites including Youth and Wild. Tickets cost upwards of $98 and are available via Apactix.
Image: Troye Sivan's Instagram
Jus2 <FOCUS> Premiere Showcase in Singapore, Zepp@BigBox — May 4
Fans of South Korean boy band GOT7, listen up. This is your last chance to catch its sub-unit Jus2—consisting of JB and Yugyeom—in action as Singapore will be the final stop for the duo's tour. Performing their debut album Focus, you can definitely expect them to perform most of the tracks there. But here's hoping that they entertain us with some of GOT7's hits as well. Tickets costs upwards of $148 via Apactix.
GastroFest, Shangri-La Hotel — May 5
Do you live to eat? The inaugural GastroFest at Shangri-La Hotel, Singapore is set to satiate your tastebuds. You can expect an array of mouthwatering cuisines from in-house restaurants Waterfall Ristorante Italiano and The Line as well as partnering establishments TONO Cevicheria, Meatsmith, Springleaf Prata, Coconut Club and The Pantree. If you fancy a tipple to accompany your meal, East Imperial and Drinksfellas will be serving up curated gin and tonic cocktails, bouquet wines and champagne. All of these while live music performances set a relaxing ambience. A wonderful way to spend a Saturday, we think. Tickets costs upwards of $228 for adults and you can make your reservations via their website.
Singapore Cocktail Festival 2019, Empress Lawn — May 10 to 12
Not that we ever need a reason to drink, but The Cocktail Festival is presenting booze in such an intriguing manner that it's hard not to put our names down straightaway. Boasting a lineup that includes international and local renowned bars such as Artemis, Tippling Club, Jigger & Pony, Smalls from Bangkok and Keepers from Seoul, expect unique creations such as a sweet and spicy Tián Mì Mì from Madame Fan Bar and banana and miso infused Peel & See from Smoke & Mirrors. There will also be live music and food so it'll be an awesome party. Tickets cost upwards of $34 via Sistic and the SCGF website.
Image: Artemis
This Is What Happens To Pretty Girls, Drama Centre Theatre — May 10 to 26
What happens when an innocence bout of flirting goes awry and the lady gets sexually assaulted? With the rise of the #MeToo and #TimesUp movements, more sexual assault stories are getting unearthed and destabilising the lies and power dynamics that keep victims silent. Created by playwright Ken Kwek after conducting over 100 interviews with victims, this production is aimed at giving voice to the shamed and damned victims and stars thespians including Oon Shu An, Pam Oei and Adrian Pang. Tickets cost upwards of $25 via Sistic.
Jason Mraz Good Vibes Tour, The Star Theatre — May 11
With his unique blend of folk-pop sound and positive lyrics, it comes as no surprise that American singer-songwriter Jason Mraz has amassed a loyal fanbase and two Grammy awards under his belt. Jason is set to perform his latest album Know that features catchy tunes such as Have It All, Unlonely and More Than Friends. Of course, we're hoping that Jason also performs fan favourites including I'm Yours, Make It Mine and I Won't Give Up. Tickets cost upwards of $98 via Apactix.
Image: Justin Bettman / Warner Music Singapore
Katya: Help Me I'm Dying – Live in Singapore, Shine Auditorium — May 12
Known for being the runner-up of RuPaul's Drag Race All-Star 2, Katya has amassed fans with her flamboyance and unique and derisive sense of humour. As one of the most popular queens to come out of the competition, you can expect a night filled with laughter as Katya shows off her various hilarious personas and characters. Tickets cost upwards of $88 via Sistic.
Image: Sistic
Lauv Asia Tour 2019, Capitol Theatre — May 15 and 16
Lauv is no stranger to performing in Singapore, after all he opened for Ed Sheeran's sold-out concerts for the Divide World Tour back in 2017. Known for his smoky vocals, his two-day gig at Capitol Theatre has already sold out, which attests to his singing prowess and popularity. For the quick few who managed to snag a ticket, you can expect songs such as The Other, There's No Way and I Like Me Better from the young, talented American singer-songwriter.
Image: Lauv's Instagram
Singapore International Festival of Arts, multiple locations — May 16 to June 2
The annual pinnacle arts festival is back, and with genres spanning from theatre and dance to art and film, you'll be spoilt for choice with this year's lineup at the Singapore International Festival of Arts (SIFA). SIFA aims to celebrate local and international works and has become a must-go event for art lovers. Held across various locations islandwide, fascinating shows include the Displaced Persons' Welcome Dinner, a production that looks at how humanitarian workers deal with the refugee crises, an intimate and moving performance by eminent Japanese musician and composer Ryuichi Sakamoto titled Fragments, and Frogman, a supernatural thriller that uses a virtual reality experience. Prices vary between shows and you can get the full information via the SIFA website.
Image: SIFA's Instagram
CLEO's Most Eligible Bachelors 2019 Finals Party — May 24
Your favourite event of the year is back! This year, we're back at Zouk for a night of fun and games for CLEO's Most Eligible Bachelors 2019 Finals Party. Meet the CLEO Bachelors, play games with them and enjoy free food and drinks. To win passes, click here.
AIA Glow Festival, Sentosa Island — May 25
It'll be a chill weekend of unwinding by the beach, participating in yoga classes and revelling in live music from local and international musicians if you head down to the AIA Glow Festival. International headliners include yoga teachers such as Marysia Do and Patrick Beach, both of whom will be conducting classes, while Belgian DJ Lost Frequencies, hit London band Rudimental and local band The Sam Willows are set to perform. This is a rain or shine event so remember to bring your raincoats. Tickets cost upwards of $59 each and you can get more information from their website.
Text: Ho Guo Xiong
Additional text: Hidayah Idris