You're probably at that age where everyone is getting married.  The excitement of seeing your friend tie the knot can be overwhelming, but that doesn't mean you have to go all out for her wedding—sartorially. Here are 11 do's and don'ts when it comes to wedding outfits (assuming you're not the bride).
1. Don't wear the same colour as the bride
No bride wants to share the limelight on her big day so don't don a dress that's of the same colour as hers. Yes, it's hard to predict what colour her dress might be, but the rule of thumb is to not wear white. There are so many hues in the colour chart—do you really have to wear white on that day?
2. Cover up if you can
It's your life, your rules, but be mindful that there will be the couple's family members present at the wedding, some of whom might be conservative. When in Rome, do as the Romans do.
3. Follow the dress code
Most invitation cards would state the dress code for the event. Don't turn up for a "smart casual" event in slippers. Following the dress code is the least you can do to show respect for the couple on their most important day.
4. Familiarise yourself with their culture
Avoid wearing colours that bring "suay" or bad luck for that culture. For example, black symbolises death and sadness in Chinese culture. If you know the couple well enough to be acquainted with the fact that their parents are conservative Chinese, don't wear this colour to the wedding. If you're not familiar with the bride or groom's culture (since inter-racial marriage is common now), read up on it lest you become a laughing stock at the wedding.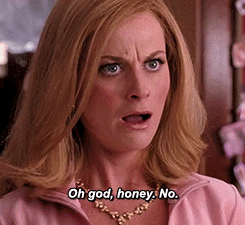 5. Don't wear a tiara
As ridiculous as this might sound, some people actually wear tiaras to weddings. #truestory There's only gonna be one queen on that day and it's defo not you. So put that tiara back where it belongs (on the shelf in the store or your vanity table, or wherever you got it from).
6. A billowy dress is always a no-no
Just because your big, billowy dress ain't white, it doesn't give you a free pass to wear it. In fact, those fairytale-like dresses should only be worn twice in your life: at your wedding photo shoot, and at your wedding.
7. Leave your business suit in the office
Put in effort and dress up for the party. Don't put on your power suit or shirt-and-corporate-skirt combo to a wedding. Even if you hate dresses, wear something nicer than your work clothes.
8. Avoid wearing the same colour as the bridesmaids
This might be a little tricky since you'll have no idea what they'll be wearing, but from what we've noticed, pastel shades of pink, peach, mint green and purple are popular choices for bridesmaid dresses.
9. Don't wear clothes that are too tight
Remember that you'll be eating at the wedding. A lot, in fact. Nothing is more annoying than sitting at the same table as someone who complains that she can't eat cos the dress is too tight. So what do you expect us to do?
10. Go easy on the glamour
Rhinestones and pearls certainly make a dress shine, but for all you know, she could have opted for a Kate Middleton-inspired design that's simple and elegant. So make sure yours isn't so bling that you end up upstaging the bride.
11. Don't wear a costume
Unless you're attending a costume party, don't don a costume to the party. And take the cray a notch down. Which means no crazy neon colours or weird patterns and shapes.
***
Just got invited to a wedding? Here are some more stories that you might find useful: