Disclaimer: We understand there are those who want their Instagram accounts to remain private. (Excellent decision, but unfortunately, these tips might not be relevant.) Instead, this list is for those who wish to build a personal and public brand that they're proud of.
Here are 10 tips to show you that you don't have to be a renowned blogger or celebrity to build a successful personal brand.
1. #Hashtags #are #not #a #marketing #strategy

(Source)
Don't be the person who fills their captions with empty hashtags like #repost #instagood #follow4follow #likes4likes #photooftheday #instadaily #instalike #followback. Multiple similar hashtags, such as #makeup #lipstick #blusher #eyeliner #makeupkit, are also discouraged. Genuine followers are discerning and they will #unfollow. Only relevant, interesting and useful hashtags are acceptable: for example, using #onthetable for an aerial food shot. In addition, empty hashtags only attract empty followers, who won't bother interacting. This means that even though you end up with 25k followers, each photo could only hit 300 likes, when it should be in the thousands. A disproportionate follower-like ratio often means you're doing something wrong.
2. Don't post everything you shoot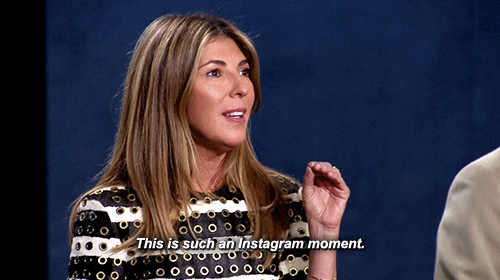 (Source)
No one needs to see a minute-by-minute update of your life, despite the term 'Instagram' suggesting otherwise. Likewise, no one needs to see that blurry shot from the club. Not everything is an Instagram moment and not everything has to be: i.e., it's okay to eat a meal without afterwards sharing that moment on social media. Keeping certain things private is also a good way to keep your followers' interests piqued.
3. Discover your Unique Selling Point

(Source)
Just because everyone is posting their #ootds or #cafehopping shots doesn't mean you have to do the same. Instead, think about what you want your Instagram feed to say. Do you want people to notice your flatlay skills and fashion styling? Do you want to be remembered for your street photography? Is your unique and consistent filter what differentiates you? Or are you more of a wordsmith, preferring to gain attention via your eloquent and honest captions?
4. Consistency is crucial

(Source)
No matter what Unique Selling Point you choose to develop, every photo should reflect that. That said, it's entirely okay to change direction. But let that change in flow be obvious enough to followers (ie, don't switch it up too often), so they don't question your brand.
5. Be open, be vulnerable, but don't overshare

(Source)
Yes: Admitting you're going through a rough time. No: Admitting you're going through a rough time, because your boyfriend just broke up with you, and in a fit of anger, you decided to visit him at midnight, which led to a crying confrontation that woke up the neighbours. Where the first example could help you appear more relatable and accessible to followers, the second example would likely turn some away. Vulnerability is not about bombarding people with intimate information about your life, especially when they didn't ask for it. That is unfair and selfish. Always balance honesty with tact.
6. Be personal, but not self-indulgent

(Source)
Take a specific incident and relate it to a universal truth. For example, no need to boast and wax lyrical about your solo travels, if you're not also going to share information or insight that benefits your followers. Merely recounting personal memories or stating personal thoughts, which do not appear to serve a larger purpose, add little value.
7. One-on-one interaction is more important than follower count

(Source)
Is your personality shining through enough so that followers feel comfortable leaving you comments? And when they do, do you reply to the comments or simply leave your followers hanging? Even though you're building a brand, it's essential that your followers remember you're a person, above all. Accessibility is the most underrated quality of successful personal Instagram accounts.
8. A good caption instantly enhances a visually appealing photo

(Source)
Tell a story not just through the filters and colours you pick, but through your words too. For example, just recently I came across a sunset pic that was gorgeous on all counts, but whose caption simply hit it out of the park. The caption read: "God is the best artist." #killedit
9. Allow the space restraints to fuel your creativity

(Source)
I'm pretty sure Instagram creators put sufficient research into understanding why the square crop works best. Therefore, instead of taking the easy way out by occasionally turning photos into a rectangular crop when a square just won't do, challenge yourself to develop a visual concept that works for the square. Not only will this train your creativity, it also ensures that your feed is visually consistent.
10. Above all, don't take yourself too seriously

(Source)
Social media is meant to be fun! FYI, this doesn't mean that you shouldn't share serious content. Rather, what this means is that you don't beat yourself up if you receive less 'likes' than you usually do, or if someone unfollows you. It's fine, the world doesn't end. Ideally, social media should be something that helps you relax and escape from reality for a bit. Never let it become a chore.
Main image: TPG