The world is mourning the death of talented Korean celebrity, SHINee's Jonghyun. The 27-year-old passed away yesterday in an apparent suicide. While he had been open about his battle with depression, many were shocked, especially as he had just wrapped up his solo concerts last week, and had reportedly just filmed the music video for his new solo album a few days ago.
If you were a fan of Jonghyun, you'd know that just like his nickname "Bling bling Jonghyun", he was all sunshine and smiles, whether on a variety show, performing on stage or interacting with fans.
He was known to be sentimental, evident from how he would cry during concerts or whenever SHINee won awards.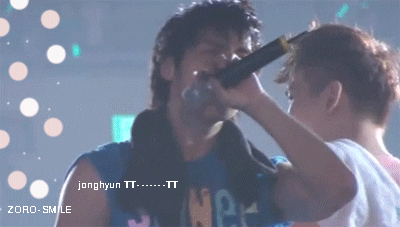 Yet, beneath those smiles, he was battling depression.
In his last text message to his sister, he wrote, "It's been hard till now. Please let me go. Please tell everyone I've lived well. This is my last goodbye."
He also reportedly left a suicide note to Dear Cloud's Nine9, who said the singer had been confiding in her about his depression. He wrote a lengthy note, explaining what he was going through. He ended the letter with, "It's impressive that I've lasted this long. What else is there to say? Just tell me I've worked hard. Tell me I've done well. Tell me I had a difficult time. Even if you can't send me off with a smile, don't blame me. You've worked hard. It was really hard on you. Goodbye."
Warning: Contains content that may be disturbing or triggering to some people.
I've read over Jonghyun's suicide note for a while now. Reading, re-reading, making sure I did justice to his words, his final words.

There's a lot to unpack and hopefully this translation will help.

[TRIGGER WARNING / self-harm / depression / suicide] pic.twitter.com/pvsMuqoG7N

— John Yoo (@oniontaker) December 19, 2017
Nine9 said Jonghyun had requested for the letter to be made public after his death, and his family gave her their blessings to do so.
More from CLEO:
Big Bang's Taeyang And Min Hyo Rin To Marry In February Next Year
Can You Guess The Korean Drama Based On A One-Line Summary?
Writer Created Fake Restaurant And It Ranked Top On TripAdvisor
Jonghyun was the main vocalist of SHINee, one of the top K-pop groups in the last decade. Beyond that, he had also put out a solo album, was a DJ for a radio show, and a songwriter who was cashing in big money in royalties. So why did he do it?
Sadly, he is testament to the fact that depression can hit anyone, no matter where you are in terms of fame or success. He is proof that words can affect people more than you think – even if you meant something as a joke, it might have more impact than you think.
He is evident that everyone needs help – like he did.
Jonghyun was a talented musician whose songwriting abilities had impressed everyone. Yet, according to a friend, he was troubled because he thought he lacked talent. In fact, he confided in his friend about it in early December.
His friend told Korean media outlet Dispatch, "He didn't have any personal problems. His relationship with his mother and sister was good too. To Jonghyun, there was only music. But he would say he lacked talent."
In 2013, he wrote a song, "Gloomy Clock", which was about depression. He said he wrote the song when he had insomnia due to depression, but it wasn't supposed to be about depression. Rather, it was a song for people to encourage people to let go of sadness. He explained, "Just bear with it for a while, and everything will be better – it's a comforting story."
On his radio show, he spoke earnestly about his experiences with depression. "'Everyone is also having a hard time' – I think these words are the worst way to comfort someone." He said, "… Telling them that they need to channel the negative feelings into something else, actually that person knows this too. He also wants to do that. But he can't."
Jonghyun: 'Everyone lives like that. You're not the only one having a hard time.' This saying. For me, this is the worst way to comfort someone. Comparing situations with other people… pic.twitter.com/K3zUbyMKXH

— 🍊🐿 [hiatus] (@wenbubbles) December 18, 2017
More from CLEO:
Best Buys: Don Don Donki Vs. Daiso Vs. Miniso
Pre-royal Kate Middleton And Meghan Markle Are Just Like Us
Highlights Of SHINee and Red Velvet's Singapore Press Conference
Over the years, sombreness and depression seeped into his music, but no one predicted he would take his own life.
Despite his own troubles, Jonghyun was a champion of social causes, including LGBT rights, the Sewol tragedy and the comfort women issue. Some of his actions left a bitter taste in people's mouth, but he did not let that deter him. To some people, it may seem like he was just another celebrity's tweet. To others, it made a difference.
And for the difference he has made, be it through his words, actions or music, we shall remember Kim Jonghyun as the bright star that he is.
If you're feeling suicidal or know someone who needs help, contact SOS (Samaritans of Singapore) at 1800-221 4444 (24-hour hotline).